Letters from the Front
May 30, 1999
Bloomington soldier's writings giving later generations insights on life during World War I
By Jackie Sheckler,
Sunday Herald-Times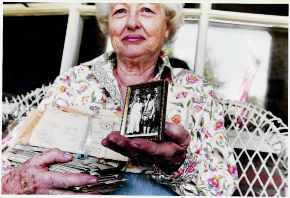 Marilyn Seward Warden holds a photograph of her parents, William Austin Seward and Edith (Regester) Seward, in her left hand, and letters to her mother that her father wrote while serving in World War I. The two were high school sweethearts and went together during college at Indiana University before he was called to duty. They were married in 1921, two years after he returned from duty, and spent 55 years together. Staff photo by Jeremy Hogan.

William Austin Seward was half a world away, desperately missing his Indiana sweetheart.
Searching for the words to tell her so in a letter dated Jan. 17, 1918, Seward wrote:
"This war is awfully cruel on us poor lovers, but remember I'm still loving you and more each day."
Seven decades later, Seward's daughter Marilyn Seward Warden gently holds the ribbon-wrapped letters her father wrote during World War I.
"They give me goose bumps when I read them," she said.
Written with rich detail and great length, the letters "seem to be talking to me over the years," Warden said.
Seward was barely out of Indiana University when he enlisted. At age 20, Seward found himself a member of Battery F, 150th Field Artillery, First Indiana Guard, Rainbow Division -- on the way to the battlefield in France.
Battery F was made up primarily of Indiana University students and Bloomington men, many of them just 19, 20 and 21 years old.
"Most of them had never been farther away than Indianapolis and here they were going to a foreign country," Warden said.
These men -- a final strength of 233 soldiers -- reported to Fort Benjamin Harrison in Indianapolis Aug. 5, 1917. Two months later they left by train for further training at Camp Albert Mills in Long Island, N.Y.
They set off for battle Oct. 18, 1917, aboard the USS President Abraham Lincoln on her maiden voyage as a transport. The men landed at St. Nazaire, France, Nov. 1, 1917.
Their first major battle was in January 1918 and they were on line at the Baccaret sector in March 1918. The Rainbow Division was placed in the Army of Occupation with the Third Army Nov. 12, 1918.
Most of the group returned to the United States aboard the USS Leviathan in April 1919.
"For 22 months, my father was over there," Warden said. "He celebrated his 20th and 21st birthdays over there."1
To deal with the homesickness and to maintain a link with the folks in Indiana, Seward wrote letters and kept a diary. Many of the letters were penned to his longtime sweetheart, Edith Regester.
"They went together since about the eighth grade," Warden said. "I remember mother saying that she didn't remember life when she didn't know him.'"
A natural-born writer, Seward became the company clerk. In addition to writing copious letters back home, Seward also faithfully recorded entries in his daily diary.
The Tuesday, Oct. 29, 1918, entry begins, "Shelling gets close!"
A well-worn red leather book, the diary is still clearly legible today. Done in pencil and pen, the diary entries detail where the company was located, what it was doing and what was going on around him.
Describing the last big offensive battle of Nov. 1, 1918, Seward writes of the booming guns and "tremendous barrage all along the line."
One of the saddest letters Seward penned was to the parents of Sgt. Burton Woolery.2 The 20-year-old Bloomington man was killed in action in France, presumably on July 29, 1918.
"I was on duty last evening at regimental headquarters when a report was brought in that Burton had been struck by an enemy shell and instantly killed while on duty at his gun. This news sure brought home to me the realization of the war, for he was to me a special friend, a fellow-towner and a brother in the bond of Phi Delta Theta. You may have the consolation that he gave his life while playing a big part in one of the biggest battles of the great cause in which we all elected to take our risks. He was one of the very first Bloomington boys to give his life in this war."
Seward made it home safely after the war. He and his sweetheart were married Sept. 3, 1921, had two daughters and a long marriage of 55 years.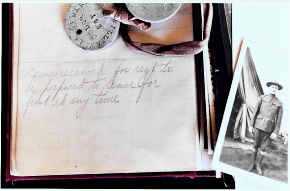 Battery F had annual reunions in Bloomington from 1920 through the late 1960s, usually at the same time as IU's Homecoming Weekend. An entry in William Austin Seward's diary dated Sunday, Feb. 3, 1918, reads, "News received for reg't (regiment) to be prepared to leave for 'front' at any time." Staff photo by Jeremy Hogan

Austin Seward died July 3, 1976. Edith Seward joined her husband June 15, 1982.
Amazingly, Edith Seward kept the nearly 200 letters and the diary written by her future husband during World War I. In later years, she would sometimes take them out and read them.
The Sewards' two daughters also would look at the old correspondence. "My sister and I used to pull them out and look at them when we were little," Warden said. "He was an excellent letter writer and we thought they were very interesting."
Stored in a a garage for nearly 70 years, the papers do have water marks and folds. But on the whole, they are legible. And they carry important information for military historians.
At the suggestion of IU professor Robert Ferrell, Warden contacted the U.S. Army Military History Institute in Carlisle Barracks, Pa., offering to share her father's writings.
Not only was the institute thrilled to have the personal archives, but it also was searching for some of the information the writings provided.
As a consultant to the Indiana War Memorial Museum in Indianapolis, Retired Major Gen. Bruce Jacobs of Alexandria, Va., said it was his "good fortune" to find the Seward collection.
Trying to recreate the command post as it might have looked on the night before the launching of the great Allied offense in World War I, Jacobs wrote to Warden that he had found "about" where the facility was located.
"In an extraordinarily serendipitous stroke of luck I found an entry in Austin Seward's diary (Tuesday, Oct. 29, 1918) which states explicitly, 'Move P.C. [C.P.?] to a room in Exermont across from church ...' I was, as you might imagine, delighted to be able to confirm this information!" Jacobs wrote.
Since then, the Indiana War Memorial Museum has become a reality. "The diorama is currently being installed," Jacobs wrote on May 15.
"It should be in place for the Memorial Day/Indy 500 week activities," Jacobs said. "You will be delighted with it."
The diorama at the museum contains four major figures -- one of them Cpl. Seward.
"It brings tears to my eyes," Warden said. "To think about my father all those years ago, sitting down and writing all those things to the people he loved back home."
---
Excerpts from letters of W. Austin Seward:
Aug. 30, 1917
"I'm working 12-13 hours per day, so have to scratch time, when bosses are out, to write. I can sure appreciate the girl I left behind and my folks now. As to the Army corrupting us, I believe it will tend to make me and the rest of us better in every way."
"Everyone pursues news from home and school [Indiana University] madly. So if you get your hands on any old 'Daily Student,' send them on."
November 1917, France
"Have arrived 'somewhere' fifteen million miles from home! Spent Halloween quite differently than we used to, never dreamed it would be so a year ago."
Dec. 9, 1917
"The first thing I shall do to celebrate my 'big' (21st) birthday will be to write a letter to you. The funny part about it, tho, is that I blossomed forth into 'manhood' lying on my back in the camp hospital. I had a little cold and nosebleed. I slipped one over on old Father Time on my birthday this year, as I became 'a man' about six hours sooner than I would have back home in the West."
Thanksgiving Day, 1917
"After dinner, some of us took a hike, over the woods to a little town where we bought cider. The little towns around here are sure regular little medieval burgs. I didn't imagine they would be so bad. Everyone is anxious to go after the Kaiser and we expect to get him sometime. I sure do like to read your letters -- over and over again. I can hardly wait to get back to the good old days with you."
Christmas evening, 1917 in France.
"I am sitting here at my desk under a sprig of mistletoe tied to the electric light, smoking a cigar and thinking of you. We had a fine Christmas but it couldn't be anywhere complete without you."
August 1918
"Getting used to pup tents in the woods, gas alarms, rain, etc. disturbing our sleep. ... Recently, Allen Buskirk and I hunted up Burton Woolery's grave and tried a picture of it. It is well marked and in a good place."
October 1918
"The late peace news must be interesting to all of you back home as it is to us. Pres. Wilson has settled it, I guess. We seem to have them on the run. I passed up a chance to go to West Point today, but believe I have had enough of the Army after war is over."
© 1999, Bloomington Herald-Telephone
---
1
Actually, his 21st and 22nd birthdays. He was born 9 Dec 1896. See Austin's diary entry for 9 Dec 1917.
2
Burton Woolery was a distant cousin. He and Austin lived a few blocks from each other in Bloomington and were both descended from
Lawrence Woolery
. The following is Burton Woolery's entry in the
Gold Star Honor Roll: Indiana WW Records: 1914-1918
, p. 453:
WOOLERY, BURTON HENRY--Sergeant. Son of Henry A. and Laura Burton Woolery; born November 20, 1897, Bloomington, Indiana. Student. Enlisted in Battery F, 1st Field Artillery, Indiana National Guard, April 12, 1917, Bloomington. Assigned to Battery F, 150th Field Artillery, 42nd (Rainbow) Division. Embarked October 18, 1917. Killed in action July 29, 1918, Beauvardes, near Esperance Farm. Buried in Grave 138, Section B, Plot 2, American Cemetery, Seringes-et-Nesles, Aisne, France. American Legion Post, Bloomington, Indiana, named in his honor.
This page was last updated 2 Sep 2007.