John C. and Mary Voss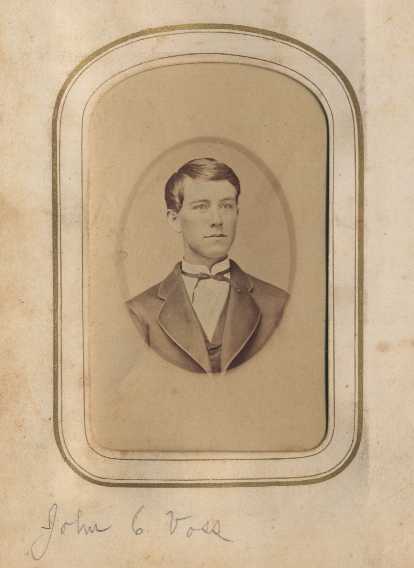 The following biography of my great-grandmother's younger brother, John C. Voss, was transcribed from History of Lawrence, Orange and Washington Co.'s, Indiana, Goodspeed Bros. and Co., 1884, and was once available on a Lawrence County,IN, biography site:
JOHN C. VOSS, jeweler, is a native of Perry Township, Lawrence County, Ind., born June 3, 18491, one of two living children in a family of six born to William and Elizabeth (Cook) Voss who were among the early settlers in Lawrence County from Tennessee. John C. Voss received a good common school education in the schools of his native county, and in the fall of 1865 moved to Bloomington, where one year later he began a course in the State University at that place. The spring of 1868 he began working at his trade, that of carpentering, which he had learned in early life with his father, and after this was engaged in clerking in a drug store for some time. He then began for himself in the jewelry business in Paoli, Orange Co., Ind., where he continued for about six months and then returned to Bloomington. In September, 1881, he bought out George N. Rouse, and located in Bedford with a stock of jewelry valued at $2,000 which he has increased to the value of about $4,000. He is now known as one of the progressive and best business men of Bedford. October 5, 1882, he was married to Mary M. Hughes, and to their union one child -- Maxwell H. -- was born April 1, 1884. Mr.and Mrs. Voss are members of the Presbyterian Church and Mr. Voss is a member of the Blue Lodge in Masonry and a Republican in politics.
An advertisement for John C. Voss' jewelry store was found in the 24 Dec 1881 edition of the Bedford Star:
THE PLACE TO PURCHASE REAL VALUABLE CHRISTMAS GIFTS AT LOW PRICES IS AT VOSS', AT ROUSE'S OLD STAND.

SILVER PLATED WARE - MOST BEAUTIFUL DESIGNS - AT VOSS', ON THE SOUTH SIDE.

VOSS' JEWELRY STORE ON THE SOUTH SIDE, SEEMS TO BE THE PLACE EVERYBODY GOES TO PURCHASE JEWELRY, WATCHES AND CLOCKS.

JOHN C. VOSS HAS THE LARGEST AND BEST SELECTED STOCK OF CLOCKS IN BEDFORD.
---
Not long after the Lawrence county history published his biography, John and his family moved to Texas. His wife didn't exactly enjoy the weather there, to judge from the following note in the Bloomington Republican Progress, 19 April 1893:
Mrs. Mary Voss of El Paso, Texas, is expected here soon to spend the summer with her mother, Mrs. Amanda Hughes of this city.
John Voss' obituary appeared on the front page of the Bloomington Daily Telephone, 11 Mar 1913,2. His nephew who was an El Paso journalist may have been responsible for publishing it so quickly in both El Paso and Bloomington:
DEATH OF J. C. VOSS

From the El Paso (Tex.) Herald -- John C. Voss, the first jeweler and watchmaker in El Paso, died Tuesday morning2 at his present home in Dallas, Tex. J. D. Hughes, who is a brother-in-law of Mr. Voss, received a message from Dallas.

John Voss was one of the group of El Paso pioneers who settled here in the early eighties. He came to El Paso from Bedford, Ind., where he had been engaged in the jewelry business. He was born in Springville, Ind., a small settlement near Bedford. He later moved to Bloomington, Ind., where he also engaged in business. He followed Judge F. E. Hunter to El Paso, after Judge Hunter had graduated from the university in Bloomington, and located in El Paso. He was a musician of ability.

He was married in Bloomington to Miss Mary Hughes, sister of J. D. Hughes, of El Paso, Levi Hughes, of Santa Fe, N. M. and the late Frank Hughes of Torreon, Mex. Mrs. John W. Walker of Bloomington, Ind., was his only surviving sister. Norman M. Walker of El Paso is a nephew of Mr. Voss. One son, Maxwell Voss, and Mrs. Voss were with him at the time of his death. For the past eight years they have lived in Mexico, having resided at Torreon and Monclova, Coahuila. They left there at the time of the revolution.
Mary died 11 Nov 1918 in Eagle Pass, Texas. Her death certificate lists the cause of death as "Spanish flu, followed by pneumonia" and the informant as Maxwell Voss. According to the certificate, Mary was the daughter of Levi Hughes and Amanda Maxwell and was born in Indiana 1 Jan 1852.
Inventor? Unless there was another man by the same name living in El Paso at the same time, the following note on page 362 of the 8 June 1889 issue of Scientific American suggests that John C. Voss was an inventor as well as a musician, jeweler and watchmaker:
Recently Patented Inventions

Miscellaneous

OVEN THERMOMETER -- John C. Voss, El Paso, Texas. Combined with a spindle having a lever and an index or pointer is a compound bar secured at one end bearing at its free end against one side of the lever, the device affording an instrument for indicating the temperature of an oven, so that the fire may be regulated for different articles.
Descendants. John and Mary's son Maxwell may have met his wife, Caroline, while living in México. She was born in that country to an American father and a Mexican mother. Maxwell and Caroline had two children who were born in Texas. In 1920, Maxwell was managing the utility company in the border town of Eagle Pass where he was enumerated with his family in the census. An article describing Sarah (Voss) Walker's 89th birthday celebration places Maxwell in San Luis Potosí, México, in 1934. How long did he live in México? Could his stories of his time there be as interesting as those of his cousin Norman?
According to the California Death Index, Maxwell H. Voss died in Monterey, CA, on Christmas day, 1962. Both the California index and the federal Social Security Death Index contain entries which appear to be for Caroline - Carlinne James Voss, who was born 12 May 1888 in México and died 11 Aug 1978 in San Mateo county, CA.
---
1
Grandma or Grandpa had given me a date of 5 Jun 1849 for John's birth, but since John probably supplied the above information for the 1884 history himself, I would accept the date given there. The birth date on John's
tombstone
, in Rose Hill cemetery, Bloomington, appears to be off by no less than
ten
years.
2
11 Mar 1913 fell on a Tuesday.
This page was last updated 29 Feb 2012.