Sigmund Wachtel,
Holocaust Victim
In 1935, Jeanette's grandmother, Katherine Waterman, who was almost 70 years old, wanted to sign up for benefits in the proposed Social Security system. Since she would need to produce a birth certificate to prove her age, she had her daughter Bertha write to her brother Sigmund Wachtel, who was still living near the family's place of origin in Czechoslovakia. Bertha sent her uncle an envelope with her own name and address written on it.
Uncle Sigmund obtained the certificate, neatly typed in German, which he sent back to Bertha along with a brief letter. Since none of us read German, including Bertha, the letter remained a mystery for a long time. Take a look at the letter to see if you can read it: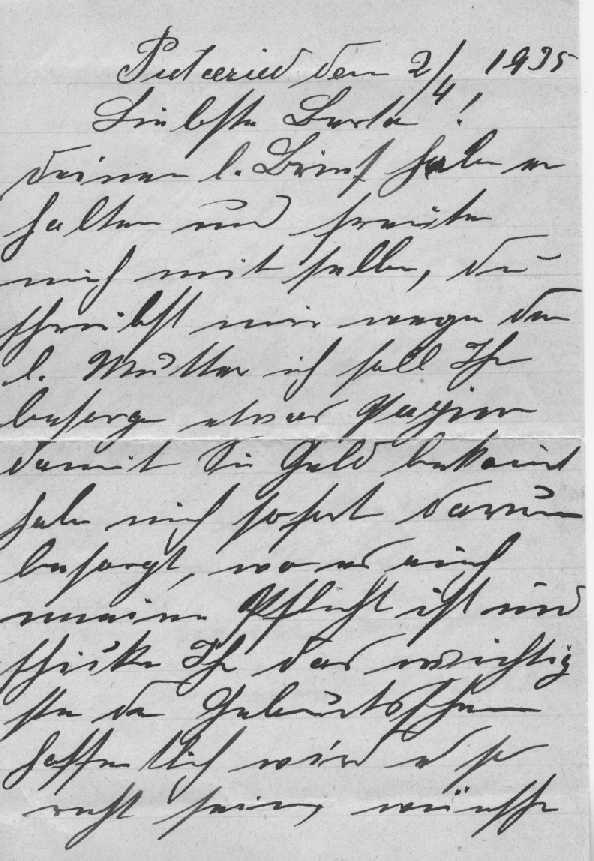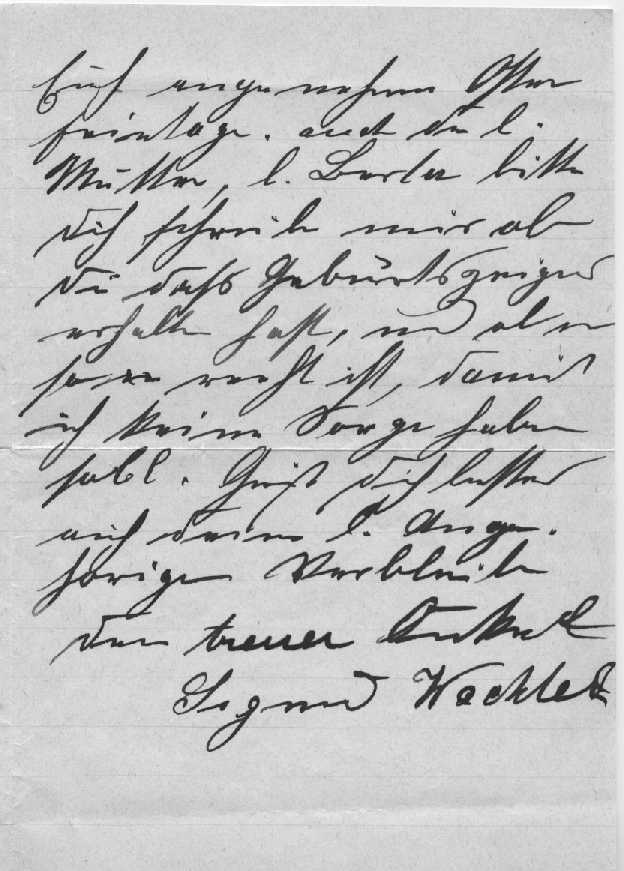 Finally, more than seventy years later, a good friend who coincidentally was born in 1935, and went to school in Germany as a child, helped us decipher the mysterious letter. She said the letter was written in a script which was somewhat different from what her grandparents used, but was still legible for her. It may be written in a precursor of the Sütterlin script, which was taught from 1915 to 1941 in German schools. We present below, side by side, the letter as written in German, and its translation, or paraphrase, in English. In the first column, each line corresponds to one line from the original. Uncle Sigmund frequently writes "l.", which seems to be an abbreviation of the German word lieber (liebe, liebes), an adjective that can be translated "dear" or "lovely".

Putceriev, den 2/4 1935

Liebste Berta,

Deinen lieben Brief habe ich
erhalten und freute
mich uber selben. Du
schreibst mir wegen der
lieben Mutter. Ich soll ihr
besorgen etwas Papieren
damit Sie Geld bekommst.
Ich habe mich sofort darum
besorgt, was es nun auch
meiner Pflicht ist und
schicke ihr das Wichtig-
ste, den Geburtsschein.
Hoffentlich wird es so
recht sein.
-----------------------
Ich wuensche Euch angenehme Oster
Feiertagen, auch der lieben
Mutter, Liebe Berta bitte
Dich, schreib mir ob 
Du das Geburtstags Zeugniss
erhalten hast, und ob es
so rech ist, damit
ich keine Sorge haben
soll.  Grüß dich bestens,
auch Deine lieben Ange-
hoerigen, und verbleibe,
dein treuer Onkel,
     Sigmund Wachtel


Putceriev, April 2, 1935

Dearest Bertha,

I've received your dear letter and was happy to receive it. You write regarding your dear mother, who needs me to obtain some papers for you, so that she can receive some money, and I have taken steps immediately, since I also consider it to be my duty. I will send her the most important item, the birth certificate. I hope this will be all right.

---

I wish you and your dear mother a pleasant Easter season. Dear Bertha, please write when you receive the birth certificate, and that it's what you need, so I won't have to worry.

With best wishes to you and your dear family, I remain

Your faithful uncle,

Sigmund Wachtel
The reference to Easter holidays confused us, since Sigmund was Jewish, but it's likely the days around Easter were State holidays in Czechoslovakia then, so Sigmund would have had a holiday, even if it were not a holiday he observed. In 1935, Easter Sunday fell on 21 April.
The content of the letter really wasn't as interesting as we had hoped, but indicates at least that Uncle Sigmund felt a great deal of affection toward his sister and toward her child whom he had never met. Bertha and her family lost touch with their relatives in Czechoslovakia during World War II and presumed they had been killed along with thousands of other Jews in what came to be known as the Holocaust.
Recently, we've discovered information which may indeed identify Uncle Sigmund as a Holocaust victim. Yad Vashem, The Holocaust Martyrs' and Heroes' Remembrance Authority, maintains a web site at which it is possible to contribute or obtain information about victims or survivors of the Shoah. A central data base, containing about three million names, is available. My search of this data base for "Sigmund Wachtel" produced the following data:
Zikmund Wachtl was born in 1871. During the war he was deported with Transport Ce from Klatovy, Klatovy, Bohemia, Czechoslovakia to Theresienstadt, Ghetto, Czechoslovakia on 30/11/1942. Zikmund was murdered in 1943 in Terezin, Camp. This information is based on a List of Theresienstadt camp inmates found in Terezinska Pametni Kniha/Theresienstaedter Gedenkbuch, Terezinska Iniciativa, vol. I-II Melantrich, Praha 1995, vol. III Academia Verlag, Prag 2000.
| | |
| --- | --- |
| Source | Terezínská pamětní kniha/Theresienstaedter Gedenkbuch, Terezínská Iniciativa, vol. I-II Melantrich, Praha 1995, vol. III Academia Verlag, Prag 2000 |
| Last Name | WACHTL |
| First Name | ZIKMUND |
| Date of Birth | 22/12/1871 |
| Place of Death | TEREZIN,CAMP |
| Date of Death | 18/03/1943 |
| Prisoner Nr. in Transport | 304 |
| Key to Transport | Transport Ce from Klatovy to Terezín on 30/11/1942 |
| Material type | list of Theresienstadt camp inmates |
| Language | Czech |
| Victim's Status End WWII | Perished |
The list of Theresienstadt inmates includes another Sigmund Wachtel, born in 1865, who came from Vienna and was eventually transported on to the Treblinka camp in Poland where he died in 1942. This man's name turns up in any internet search and he shouldn't be confused with Bertha's uncle.
The holocaust.cz web site lists eight other persons named Wachtl or Wachtlová who were transported from Klatovy to Terezín on Transport Ce. All were sent on to Auschwitz and murdered there. Klatovy is about 20 km (12 miles) from Sigmund's home town, Pocinovice. Beharov, where Katherina was born, was about 2 km from Pocinovice, on the road to Klatovy.
A list of all transports of prisoners to and from Terezín, from 24 Nov 1941 through 15 Apr 1945, was formerly available at the Terezín Initiative site, but now is a part of the Porges families site. For additional information, please visit the following sites:
Our 2015 inquiry to the Holocaust Survivors and Victims Resource Center, at the United States Holocaust Memorial Museum, produced similar information:
Thank you for your request for information on your uncle, Zikmund Wachtl, from the International Tracing Service (ITS) collection held by the United States Holocaust Memorial Museum...

Our extensive search of the ITS records, the Museum's archival holdings, and other resources yielded the following results. Please see the attached Teresienstadt Ghetto card which has information about Zikmund Wachtl's deportation and date of death, March 18, 1943, 5126133_0_1. The ITS created an official death certificate for Zigmund Wachtl based on the above-mentioned card, 47823544_0_1, 47823544_0_2. The Czech Holocaust memorial database provides an entry for your uncle, Zikmund Wachtl, and more information about the transport that he was on at: http://www2.holocaust.cz/en/victims/PERSON.ITI.1945984.
These are the documents which the Museum provided: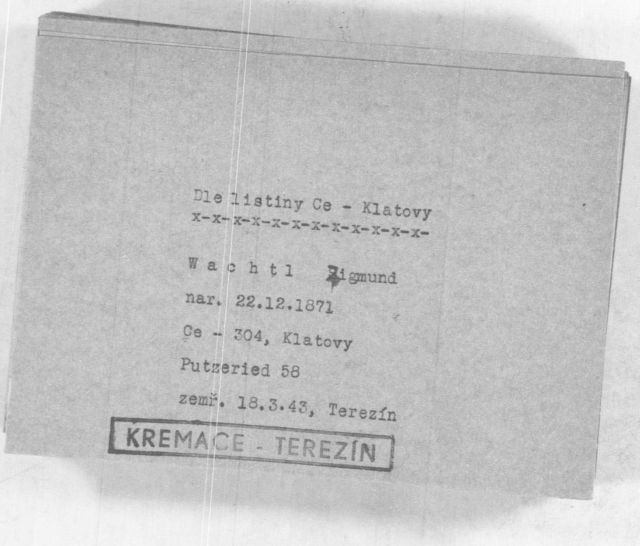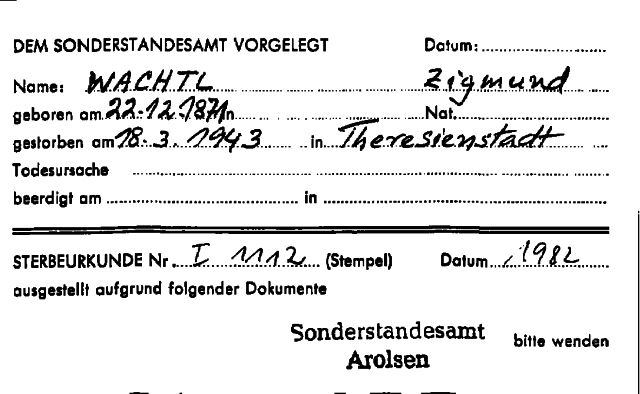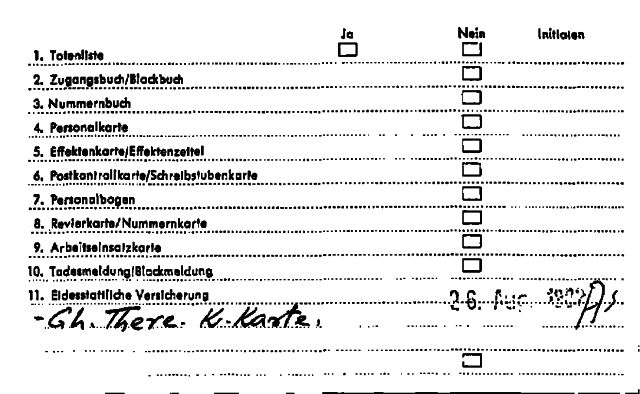 This page was last updated 2 June 2015.