For two years, they exchanged letters halfway around the world. We offer these World War I letters as a special Memorial Day tribute to veterans everywhere.
For home and country
by JENNIFER WAGNER
They were two young lovers, torn apart by the rumble of war. He left her side to fight for his country. She waited patiently for his return. And in the end, they were reunited, married, and lived happily ever after.

But this is no Hollywood romance, It is the story of William Austin Seward, a 20-year-old who graduated from Indiana University with honors, and his high school sweetheart, Edith Regester. The two were separated after Seward joined the Army during World War I, hut their separation was merely geographic.
Seward wrote home to Edith frequently -- a total of nearly 200 letters -- about the war, conditions in the Army, and, most important, their love for one another. When he returned to Bloomington after 22 months in France, Seward and his sweetheart were able to rekindle their fairy-tale romance.
Now, after more than 70 years of storage in a garage, the letters have resurfaced. The Sewards' daughter, Marilyn Seward Warden, BS'44, took the advice of IU Bloomington history professor emeritus Robert Ferrell and contacted the U.S. Army Military History Institute in Carlisle Barracks, Pa. Warden offered to share her father's letters as a way for military historians to gain insight into World War I and into the personal lives of its soldiers.
The letters, though, are more than just a methodical way of piecing together a war. They tell the tale of a young man who faced hardship and heartache, who willingly threw himself into the heart of hostility and survived. This is his story.
Soon after his graduation from Indiana University at the age of 20, W. Austin Seward enlisted in the Army. He became a member of Battery F, 150th Field Artillery, First Indiana Guard, Rainbow Division, which was made up primarily of IU students and young men from the town of Bloomington. At the beginning of August 1917, Seward and his fellow enlistees reported to Fort Benjamin Harrison in Indianapolis -- 233 soldiers preparing to ship out to Europe before the year's end.
"I'm working 12-13 hrs. per day, so have to scratch time, when bosses are out, to write. I can sure appreciate the girl I left behind and my folks now. As to the Army corrupting me, I believe it will tend to make me and the rest of us better in every way."
After two months at Fort Harrison and a few weeks of additional training at Camp Albert Mills in Long Island, N.Y., Seward joined more than 5,000 servicemen on their journey to Europe aboard the USS President Abraham Lincoln. They landed in France on Nov. 1,1917.
"Have arrived 'somewhere' fifteen million miles from home! Spent Halloween quite differently than we used to; never dreamed it wouuld be so a year ago."
By the end of November, Seward had settled into military life in France, although his letters show that the soldiers abroad were just as uncertain as those waiting at home about the future of the war:
"We have our little room fixed up pretty nice now, and have no kick about our life. It is even better than sleeping in the fraternity house dormitory. We don't get any more 'dope' than you about the war Sonic say it can't last thru the spring."
On Dee. 9, 1917, Seward celebrated his 21st birthday, alone and ill in an Army hospital. It would he another month before the young men of the Rainbow Division would face their first major battle.
The first thing I shall do to celebrate my 'big' birthday will be to write a letter to you. The funny part about it, tho, is that I blossomed forth into 'manhood' lying on my back in the camp hospital. I had a little cold and nosebleed. I slipped one over old Father Time, as I became 'a man' about six hours sooner than I would have back home in the West."
Although he was surrounded by friends and fellow soldiers, Christmas of 1917 was a lonely time for Seward, who longed to be back in Bloomington with Edith.
"I have been sitting here at my desk under a sprig of mistletoe tied to the electric light, smoking a cigar, and thinking of you. We had a fine X-mas, but it couldn't be anywhere complete without you, specially with mistletoe around."
By mid-January 1918, Seward's solitude had grown, in part because there was no end in sight for the war. Soldiers were kept uninformed as far as the future was concerned, and letters between Europe aod the United States were censored for fear their content would disclose vital military information. The one thing Seward could express, though, was his love.
"We don't get much chance to see the beautiful French ladies where we are. The adjutant tells of the women in Paris. For my part, the one I know back in Indiana so far outshines all that I say that they do not interest me. The war is awfully cruel on us poor lovers, but remember I'm still loving you, and more each day."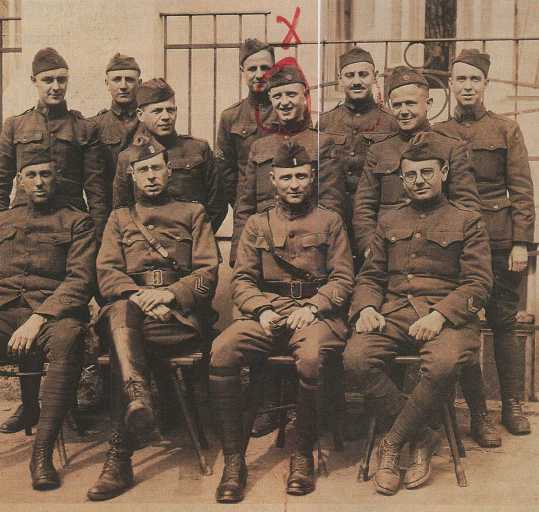 FRANCE (1918) ¤ Battery F, part of the Rainbow Division, was made up primarily of IU students and young men from Bloomington. Austin Seward is in the middle of the second row of three men. Courtesy photo.
As the months rolled by, Seward continued to write to Edith about different battles and places the Rainbow Division had been. In one letter, he described a battle that took place around July 14, 1918.
"We just came away from our prettiest battle that has been pulled off yet. Of course we are not permitted to tell you much about it, but when the 'pop' started and all the artillery started to spit steel and the rockets flared up, it was the most beautiful celebration of Bastille Day, or any other day one could imagine. Our regiment came out very lucky (only 2 killed), but we received all sorts of commendations and citations from all the big French officers."
Shortly after writing to describe the Bastille Day battle, Seward had to pen a more tragic letter to the parents of Sgt. Burton Woolery, who had been killed in action. Like Seward, Woolery was a native of Bloomington, and the two had been in the same IU fraternity. Woolery was killed instantly when an enemy shell stcuck him while he was on duty at his gun.
"This news brought home to me the realization of the war, for he was to me a special friend, a fellow-towner and a brother in the bond of Phi Delta Theta. You may have the consolation that he gave his life while playing a big part in one of the biggest battles of the great cause in which we all elected to take our risks. He was one of the very first Bloomington boys to give his life in this war.
By the fall of 1918, the war efforts began to wind down, and Seward looked forward to his Indiana homecoming. In October, he wrote one of his final letters to Edith.
"The late peace news must be interesting to all of you back home, as it is to us. Pres. Wilson has settled it I guess. We seem to have them on the run. I passed up a chance to go to West Point today, but believe I have had enough of the Army after the war is over."
Seward returned to Bloomington in 1919. Two years later, on Sept. 3, 1921, he married Edith Regester. The couple had two daughters, Marilyn and Nancy (Seward Taylor, BA'47), and a marriage of 55 years.
Today the W. Austin Seward scholarship, established by Edith and perpetuated by daughter Marilyn, is given to the outstanding junior finance major. Seward's war service has been commemorated in a diorama at the indiana War Memorial Museum in Indianapolis. The diorama, which attempts to recreate a scene at the command post the night before the launching of the great Allied offense, contains four major figures, one of them Cpl. Seward. Seward's letters helped war consultants piece together a night in history that occurred more than eight decades ago. The diorama can he seen on the museum's lower level.
---
Jennifer Wagner is a junior journalism major at IU Bloomington. She has served as an editorial intern for INDIANA ALUMNI MAGAZINE since December 1998. The Indiana University Archives is interested in collecting wartime correspondence of IU alumni. For more information, phone the archives at (812) 855-4495, e-mail archives@indiana.edu or write to the archives at Bryan Hall 201, 107 S. Indiana Ave., Bloomington, IN 47405-7000.
Indiana Alumni Magazine, May/June 2000
© 2000, Indiana University Alumni Association Inc.
This page was last updated 19 Feb 2004.