Constance's grandpa:
Brad Gowans
1 April 2012 is a happy day for the Carey family. Our son David is marrying Constance Patterson today. We've enjoyed getting better acquainted with Constance and her family over the past three years. Somewhere along the way, we learned that our new daughter-in-law is descended from one of the greats of traditional jazz and swing – trombonist Brad Gowans.
Constance, as an adopted child, was unaware of her relationship to Brad until she was about 30 years old and met her birth mother.
As a jazz fan, I had heard of Brad long, long ago. He played the valve trombone on many classic records during the thirties and invented a hybrid instrument called the valide trombone, which included a slide, as well as valves. He also played cornet and clarinet from time to time.
Brad Gowans' biographies are available at:
From these sources, and from the U. S. census and other public records, we can learn a few basic facts about Brad. He was born Arthur Bradford Gowans, 3 Dec 1903, in Billerica, Massachusetts, and died 8 Sep 1954 in Los Angeles. In 1910, he was living a few miles away from his birthplace, on Crescent Avenue, in Bedford, with his parents Arthur and Ellen, and younger brother Horace. Brad's father registered for the draft during World War I, 2 Sep 1918 in Arlington, MA. See his draft registration card, which we found at ancestry.com, and which was transcribed as follows on a forum at genealogy.com:

 Arthur Gowans
 age 45
 born May 6, 1873
 medium height and build, blue eyes, gray hair
 address - #38 Newcomb St., Arlington, Mass.
 Occupation - Supt. of Storage Battery
 Employer - Electric Storage Battery Co., #72 Beacon St., Boston, Mass.
 Mrs. Ellen Frances Gowans, wife, #38 Newcomb St., Arlington

We couldn't find any trace of this family in 1920, but in 1930, Brad was gone (on the road with a band?) and Horace was still living with both parents at 40 Newcomb St., about 10 miles farther south, in Arlington.
Brad worked in several little-known bands in his early days before joining famed violinist Joe Venuti on cornet in 1926. Gigs followed with Mal Hallett's big band and with Jimmy Durante, who was a pianist and bandleader in the Twenties before becoming famous as an actor and comedian. Although he was in and out of the music business due to the Great Depression, Brad played and recorded with many of the the leading figures of early jazz. He made very few records under his own leadership, though, so he seems to have been forgotten by all but the most hardcore of jazz enthusiasts.
Brad married a woman named Juliet Malonis, the daughter of Lithuanian immigrants Michael and Mary Malonis, and they had one child, Shirley Gowans, who was born 8 May 1928. Shirley is Constance's mother. Brad and Juliet divorced before the 1930 census, when Juliet and Shirley were enumerated in Arlington, MA, living with Michael and Mary at 11 Orvis Road, about two blocks away from Brad's parents and brother. This family of four was still living in the same house in 1940.
On 14 Jun 1932, in Salem, New Hampshire, a marriage was recorded for Bradford A. Gowans, age 28, the son of Arthur Gowans and Ellen O'Keefe, to 23-year-old Louise G. McCarthy, the daughter of Justin F. McCarthy and Catherine V. McCarthy. We located Brad and Louise in the 1940 census, living in the West Village area of New York City, not far from the jazz clubs where Brad tried to earn a living. His name was misspelled as Branford! The only other guy we've ever heard of with that name is another jazz great, saxophonist Branford Marsalis, of New Orleans.
While in the Big Apple, Brad had a variety of gigs, usually working with other jazz greats. Here he is, playing at a school of all places! The group includes trumpet greats Louis Armstrong, Bobby Hackett and Max Kaminsky, pianist Joe Sullivan, drummer Zutty Singleton, clarinetist Pee Wee Russell and guitarist Eddie Condon: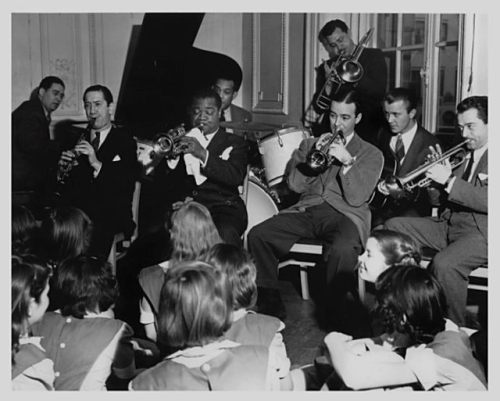 Other than a few 78 rpm singles which Brad recorded early in life, his only recordings as a leader seem to be eight tracks he recorded 10 Apr 1946 which were reissued in 1954 in a 10-inch RCA Victor LP – LJM3000 as Brad Gowans and his New York Nine. I'm not sure that I've ever heard these records, although I own, or have heard, other recordings which Brad made as a sideman.
Here are the front, back and inside covers of that album, which Constance's birth mom gave her when they finally met. Unfortunately it was chewed up by Constance's dog, who also made the vinyl record inside it unplayable. Even though the album contained only a single 10" disc, Victor was lavish in its art work and packaging:
The New York Nine consisted of:
The tunes in the album were:

Brad Gowans, trombone
Billy Butterfield, trumpet
Arthur Rollini, tenor sax
Joe Dixon, clarinet
Paul Ricci, bass sax
Joe Bushkin, piano
Tony Colucci, guitar
Jack Lesberg, bass
Dave Tough, drums

Poor Butterfield
I'm Coming Virginia
Jazz Me Blues
Stompin' at the Savoy
Singin' the Blues
Clari-jama
Carolina in the Morning
Jada
I thought you'd enjoy reading the album's liner notes. We weren't able to determine whether Brad's baseball cap, which the notes mention, was that of one of his home town's two 1946 teams–the Red Sox or the Braves–or of one of the teams alluded to by the album's title–the Yankees or the Giants.
The selections in this album were all recorded on April 10,1946, by a band especially assembled under the tutelage of the celebrated master of the combined valve-and-slide trombone, Brad Gowans. Only two of these sides—Jazz Me Blues and Singin' the Blues—have ever been released before; in all eight is heard some of the most remarkable jazz of any period, the result of a session which produced startlingly original work in both solos and ensemble.

If anyone set out to prove just how inventive good jazz can be, these sides would offer the most convincing evidence. Take Brad Gowans and Billy Butterfield, two of the best brass men in the business; throw in a considerable amount of Arthur Rollini at his best; add a dash of Joe Dixon and Paul Ricci; and serve with a superlative rhythm section—the results could not be anything but the most exciting.

In addition to his status as one of jazzdom's great trombonists, Brad Gowans is possibly the country's number one baseball fan, a fact which offers sufficient explanation for the sporting title of his recording group. It is also interesting to note, if only in passing, that the session was led by Gowans attired in his habitual baseball cap, an accoutrement which may or may not account for the music's complete abandon.

With a long background of great recordings—he has cut sides with such musicians as Eddie Condon, Bud Freeman, Bobby Hackett and Art Hodes—Brad finally came into his own when he assembled this band for the eight sides heard here. Blowing a combination valve-and-slide trombone of his own invention—he is undoubtedly the only musician playing a bastard instrument of this kind—he brought to the present aggregation not only his marvelously driving style, but an ensemble spirit that sparked everyone else to feats of greater virtuosity.

Almost equally responsible for the excitement of these sides is Billy Butterfield, a trumpeter who blows both hot and sweet, and whose style and tone have made him one of the most sought-after sidemen in the game. His marvelous lead work on Poor Butterfield—a Gowans original which, incidentally, contains a tasty Rollini solo reminiscent of Bud Freeman's on The Eel—is at least equalled by the poetic way in which he attacks the lovely Carolina in the Morning.

It is, indeed, difficult to single out any particular soloist in this all-star aggregation. Joe Dixon's clarinet, especially in Clari-jama, is both aggressive and restrained; and Paul Ricci's bass sax lends a different flavor to every side. The rhythm section is solid throughput, with Joe Bushkin contributing several of his fanciful solo flights, and with Dave Tough—this was, incidentally, his last date—backing everyone with the beat that made him one of the greatest, and most underrated, of drummers.

In all, this is the sort of jazz one is not privileged to hear very often—rugged, but disciplined; exhilarating and completely relaxed. It was a session in which all the participants were equally inspired, one in which they created, singly and together, some of the most memorable jazz of recent years.

BILL ZEITUNG
Brad Gowans collapsed on stage while appearing with Eddie Skrivanek's band in Los Angeles in January 1954. The California Death Index not only lists Brad, but also his mother, Ellen F. Gowans, who is said to have been born 14 Apr 1871 in Massachusetts, and died 6 Oct 1961 in Los Angeles county. It is possible his father, Arthur Gowans, died in 1943. This information is based on material contained in queries at RootsWeb.
At one time, the only Brad Gowans obituary we could find was the following, which appeared on page 2 of The Lincoln (NE) Star, 10 Sep 1954:
Brad Gowans Dead

VAN NUYS, Calif. (INS)—Funeral services will be held Friday for trombonist Brad Gowans, 50, one of the music world's leading exponents of Dixieland jazz. Gowans, a native of Massachusetts, died of cancer at his Van Nuys home. He began his career with jazz groups in Boston and later became well known in New York and Hollywood.
But, in June 2017, the obituary below, which appeared on page 1 of the 20 October 1954 issue (Vol. 21, No. 1) of Down Beat magazine, was sent us by trombonist, educator and author Douglas Yeo (be sure to visit his Wikipedia page and his own site!), who is researching Brad for two books he's writing on the trombone:
Brad Gowans, 50, Dies of Cancer in North Hollywood

Hollywood—Brad Gowans, one of music's colorful personalities and a veteran jazz star of the neo-Dixieland era, died of cancer in his home in North Hollywood Sept. 8. Gowans, 50, played clarinet, trumpet, and several other instruments but was best known for his work on an instrument he designed himself—a combination of valve and slide trombone believed to be the only one of its kind.

His last engagement was with Ed Skrivanek's Sextet from Hunger, with which he appeared at the El Cortez in Las Vegas from April, 1953, to April, 1954.

It was there last January that the disease struck him. Following an exploratory operation which revealed that his case was hopeless, musicians and entertainers in Las Vegas staged a big benefit for him, after which he showed a surprising degree of improvement. He was able to return to the band and stayed until the end of the engagement, April 7.

Gowans was born in a small town in Massachusetts, and, like many other jazz men of the era, was largely self-taught.

As a youngster he became something of a disciple and protegé of Eddie Edwards, trombonist with the Original Dixieland Jazz Band, and as such was one of the last surviving links with the band that, for better or worse, put the word jazz in the American and other languages. Gowans exchanged letters with Edwards up to shortly before his death.

Among Gowans' last major contribution to jazz was an album, Brad Gowans New York Nine, he did for RCA-Victor about six years ago but which was not released until early this year.
Thank you very much, Douglas!
This page was last updated 12 Jun 2017.