Helen Reddick Seward
Helen Reddick Seward, born 6 Jan 1890 in Bloomington, died 1982 in Tulsa, Oklahoma. She weighed only 2.5 pounds when she was born. She was a fighter throughout her life and survived what at that time were unlikely odds. Her father was Michael Helton Seward who moved to Muskogee for health reasons. Her mother was Harriett Lorena "Hattie" Reddick and her stepmother was Sarah E. Johnson. Helen Reddick Seward married Anton "Tony" Bacher.
Anton "Tony" Bacher was born in 1885 in Schambek, Hungary, which I understand is right outside of Budapest and may not even exist today. He immigrated through Ellis Island when he was 23 in 1908.1 On the shipping manifest (from the ship named Baltic) he lists Schambek, Hungary,2 as his place of birth and Berlin, Germany, as the point of departure for immigration. He was an apprentice tailor in NY, lived in St. Louis and Fort Smith for awhile and eventually moved to Muskogee. I am not sure how Tony and Helen met but I do remember that my grandmother could always spot Tony walking down the street because he always had his left hand behind his back.
Tony and Helen were quite the entrepreneurs, owning apartment buildings, office buildings and rental properties in addition to a thriving tailor business. When they bought their house at 329 North 7th Helen rented 3 of the 4 bedrooms until they could pay for the house. Following is a picture of Tony and Helen standing outside their house at 329 North 7th Street in Muskogee, Oklahoma.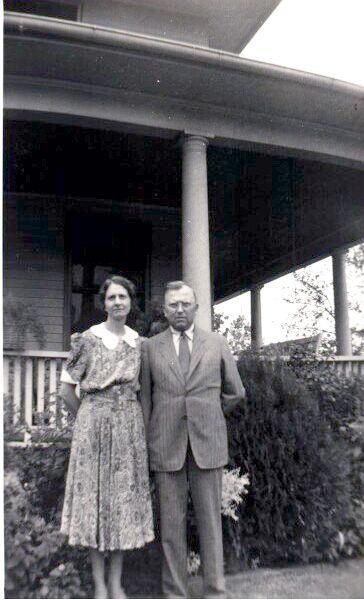 After Helen's health began failing she sold the house and moved to Tulsa, Oklahoma to be closer to her son Austin. The house became a rent house and a careless renter burned it to the ground. All that is left is a vacant lot and a vestige of the large magnolia tree that adorned the house for so many years.
Tony served on the Board of Directors of Phoenix Federal Savings and Loan, Board of Directors of Children's Day Nursery and was active in the Kiwanis Club and Knights of Columbus. Helen was active in the Presbyterian Church and the Knife and Fork Club.
Tony had a tailor shop for many years that was across the street from the Post Office and Federal Building in downtown Muskogee. I recall him telling the story often of the car dealers who used to wait outside the building for Indians who had just cashed their oil royalty checks in hope of selling them a car. I have been told by several long time Muskogee residents that if you didn't have an Anton Bacher tailor made suit then you just had a cheap imitation. Tony died of cancer in 1968 in Muskogee and Helen died of cancer in 1982 in Tulsa.
Tony and Helen had 3 children. Austin Howard Bacher was the second of the children. He was born in January of 1921 and the only one who survived childhood. The first son, Anton, was killed when a lady learning to drive jumped the curb and ran over him. Tony was holding his hand at the time. He would leave the room if someone tried to talk about this sad incident. They also had a daughter, Harriet Margaret Bacher, who died 9 days after birth - she weighed 10 pounds. Helen Bacher probably never weighed 100 pounds in her life, so the large baby girl and the difficult delivery was just too much for her. Tony, Helen, her father Mike, children Anton, Harriet and Austin are all buried together in the family plot in Muskogee at Green Hill Cemetery.

Tony Bacher
(Helen and Tony's grandson)
October 2005
---
Thank you, Tony, for contributing Helen and Tony's story to our Carey Family Album.
I can remember visiting Helen and Tony Bacher in Muskogee during our vacations of 1949 and 1953. They lived in a big old house with screened porches at 329 North 7th Street. Even though they had never seen any of us before, they welcomed us and made us feel right at home, providing us endless quantities of iced tea to ease the blistering hot weather. Helen told us about how fortunate she was to have had a kind stepmother who raised her from childhood after her birth mother's death.
Helen and Tony's son, Austin Bacher (1921-1997), seems to have inherited some of the Seward musical genes. This picture, and its caption, are from a clipping in my grandmother's scrapbook:
Richard Coffman, left, and Austin Bacher, both of Muskogee, are members of the famed Razorback marching band at the University of Arkansas and will play in the concert band that is being planned for next year. Coffman plays the trombone and Bacher the piccolo. Having built up a reputation as "the best drilled marching band in the south," the Razorbacks will enter the concert field next year. The concert band will number 75 pieces and will probably be dressed in formal white uniforms. It is hoped to give concerts in Oklahoma and Arkansas cities, and also in Philadelphia, Pa., on the occasion of the Arkansas-Villanova football game next fall.
---
1
This is Anton's passenger record from the archives of
The American Family Immigration History Center
at Ellis Island:
| | |
| --- | --- |
| First Name: | Anton |
| Last Name: | Bacher |
| Ethnicity: | Hungarian |
| Last Place of Residence: | Berlin, Germany |
| Date of Arrival: | Feb 15, 1908 |
| Age at Arrival: | 23y |
| Gender: | M |
| Marital Status: | S |
| Ship of Travel: | Baltic |
| Port of Departure: | Liverpool |
| Manifest Line Number: | 0001 |
SS Baltic
was one of the ships which picked up
SS Titanic
's
distress signals
the evening of 14 Apr 1912.
2
In Anton and Helen's
1920 census record
, the census taker lists Anton's
Nativity & Mother Tongue
as "Sembuck/German". A table of German and Hungarian place names at a web site which no longer exists included a reference to a town called
Schambek
in German and
Zsámbék
in Hungarian. It looks like this town still exists and has its own
web site
. The
1930 census
lists Tony's nationality and language identically, but doesn't mention any location within Hungary.
This page was last updated 21 Feb 2016.