Ham-ateur hobbyist defies comparison
Greg Dawson
H-T staff writer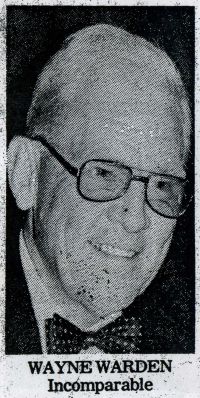 To better explain his unusual hobby, Wayne Warden has compared it with golf, a comparison as engagingly and uniquely outlandish as the hobby itself and Warden's passion for it. If it can be compared with golf it can be compared with mountain climbing and wine tasting, with which it also has little in common.
WARDEN'S WIFE, Marilyn, believes a more nearly accurate parallel would be stamp or coin collecting, but those convey a desk-bound sedentariness that belies the wildly peripatetic nature of Warden's avocation. Bird watching may come close, but nothing Warden could see through binoculars could equal his own flights of fancy in pursuit of the improbable.
Though Warden's hobby does not invite comparison the temptation is to put off getting down to the facts, since the details tend to defy explanation as well as belief. To say that Wayne Warden is a ham radio operator is to say that Neil Armstrong was a flier of small aircraft.
WE ARE NOT TALKING here of CBers of whom there are millions or of mainstream hams of whom there are lesser millions, but of DXers of whom there are some 250,000 in the U.S. and another 350,000 around the world. That probability is all the world can stand, for what DXers lack in numbers they make up in fanaticism and, in Warden's case, airline fare.
In ham jargon, DX indicates great distance, and the single-minded goal of DXers is to "work" (make contact with) as many different DX stations as possible. The goal is countries, not DXers, so that an American DXer who works 100 DXers in Japan gets just one credit to his name.
The total number of DX stations around the world is about 350. Working the major countries hwere DXers abound (that's just about everywhere) is the easy part. The challenge comes in working the places where only Catholic missionaries and National Geographic photographers usually go -- Brunei, Wallis Island, Surinam, Niue, San Felix Island, to drop a few names.
THE PROBLEM IS, such places do not teem with population much less DXers; someone must go and set up a DX station so that fellow DXers can work the location and add it to their list. The towering injustice is that the person who volunteers to establish the wilderness outpost does not get credit for working that location. He must wait till a fellow DXer sets up shop at the same location. Competition among the DXers is intense, as is cooperation and brotherhood.
Over the past 25 years Warden, a Bloomington businessman, has worked some 320 DX stations and helped contribute to the expanding list by venturing deep into the South Pacific and into Central and South America to set up broadcast stations. His credits include those listed above plus Easter Island and a handful of others.
Mixes islands and fares with radio fun
One of Warden's major contributions was San Felix Island, little more than an extinct volcano 700 miles west of Antofagasta, Chile. It took seven days to get there in a small sailboat and Warden needed the help of fishermen to lug his equipment up and over the rocky terrain to the top of the island. In four days he made contacts with more than 5,000 DXers around the world. However, he is still waiting for another DXer to go to San Felix so he can add the island to his own list.
In May, Warden traveled to Wallis Island in the South Pacific via Samoa and New Caledonia. In six days he made 4,000 contacts. He lived in a thatched hut and "never did sleep more than six hours," he says. "You just sit and work 'em all the time. About all you do is take time out to eat and sleep.
"The island was full of pigs and they run free. You can't just automatically kill 'em. There's some kind of stigma attached to them. My French is so poor and I was so busy, I never got the story on those pigs straight, but they were out there snortin' and snootin' outside the hut."
On Easter Island, Warden barely found time to break away from broadcasting to see the awesome and mysterious statues that make the island famous -- and only when a Catholic priest agreed to broadcast while he was gone.
DXers are sometimes fanatical to the point of building a new "country" to claim as a DX outpost.
"The most rabid DXers other than Americans are the Japanese," Warden says. "They are stark, raving mad to work these places. They wanted to get a country they never had before so these fellows went out to sea and actually built a physical structure -- spent about $200,000 -- and worked from there. It caused a lot of argument because it didn't fit the requirements for a country."
Warden's 320 "mixed" contacts (voice and Morse code) put him among the DXing elite, but he is still five short of the international "honor roll." Since he has covered all the easily accessible stations, the last five are proving hard to get. Among these he has not worked are San Felix (he got Wallis Island), Albania, Cambodia and China, whose government does not yet allow ham operators.
Warden is a member of the DX "century club" which requires one 100 Morse code contacts. "When they started over (after World War II, when all hamming ceased) I was not No. 1 in the world to get it but I was No. 17. I didn't feel too bad about that."
When a rare DX station begins a broadcast, DXers around the world scramble to get in line for it and the situation is called a pileup; not all get to work the station before the broadcaster shuts down.
China is the next big breakthrough. "We know for a fact there's a State Department guy over there who has the stuff to go on the air," Warden says. "When that happens, it's going to be the world's greatest pileup."