Weird Band Alert: The Pump Girls
Posted Tuesday 01/15/2002 1:00 AM in
Guide
by Alex Pappademas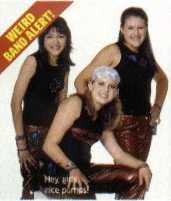 WHAT'S UP WITH THAT NAME?
Keep it clean, amigo — the members of this California teen-pop trio all have juvenile diabetes; the name refers to their trusty insulin pumps.
ARE YOU SURE IT'S NOT SOMETHING . . . DIRTY?
Dude, they're, like, 14. And as their Web site puts it, they sing about "boys, love, dancing and overcoming challenges."
SO ARE THEY THE FIRST DIABETIC POP STARS?
Hardly. Elvis Presley, Tommy Lee, Neil Young, Jerry Garcia, Gladys Knight and Miles Davis all have or had diabetes.
WHOA. DO THE PUMP GIRLS SOUND LIKE ANY OF THOSE PEOPLE?
No. More like a less edgy Spice Girls sponsored by Bayer Diagnostics — makers of the DEX Glucometer!
DOES THAT . . . ROCK?
Dude, the DEX Glucometer is, like, the Fender Stratocaster of blood-glucose monitoring systems — only it really pumps out the jams!