A HANDS-ON HERITAGE
"The Winans family has always been interested in preservation," says Los Angeles restoration contractor Larry Winans. So it certainly seems.
Larry's father, draftsman and landscape architect Merrill Winans, 81, weathered the Depression by restoring homes under his father-in-law's tutelage. Now following suit are Merrill's "boys": son Larry, 52, and grandson Bruce, 29. "One," says Merrill, "sees what the other's doing and wants to do it too."
It was Merrill who set the key example. In the late 1960s he began a 20-year involvement with Heritage Square in Los Angeles, a museum collection of relocated Victorian-era buildings. Its aim, he says, "is to save buildings that would otherwise be destroyed." Eight endangered structures have so far been moved to the site--"everything from a railroad depot to a Pasadena church."
In the early 1970s Merrill roped Larry into volunteering on the project. Within a few years Larry was back as project superintendent and finish carpenter on seven structures, including the circa 1888 Hale House, which had been threatened by construction of a shopping mall.
Grandson Bruce, a skilled woodworker, got his start as a Heritage Square volunteer while still in college. Now he and his brother-in-law, Marlin, 30, work for Larry's firm, which specializes in residential preservation and restoration. Bruce handles the carpentry while Marlin tends to the electrical work and plumbing.
But no one rests on his laurels, "We all have our specialties," says Bruce, "but we're always being taught new things." An older Mexican craftsman recently taught Bruce gold leafing, marbleizing and graining.
Explains Larry, "One of our policies is that everybody learns skills they don't have, so they develop an appreciation for what's around them and become more than a nail banger. We require employees to continue their education in the building trades, and we finance at least a portion of it."
The company's work is by no means limited to Victorians. Two years ago, for example, the Winanses worked on a concrete house by Rudolph Schindler, a protege of Frank Lloyd Wright. They've also worked on bungalows, adobes and Arts-and-Crafts-style structures.
Why does the family find preservation so appealing? "We've all learned the monetary reward is secondary to the satisfaction in what you're doing," says Merrill. "Preservation," he adds, "gives the city something of the past that would otherwise be lost. And it helps us understand how we got where we are."
Pamela Hirsch is an editorial intern at Historic Preservation.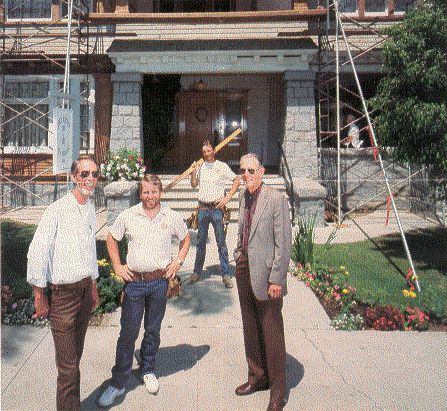 Three generations of Winanses are working together to restore the Lord Mayor's Inn, an Edwardian-style B&B that was home to the first mayor of Long Beach. From left to right in foreground are Larry, Bruce and Merrill Wlnans. Larry's son-in-law Marlin Otey stands in rear.